Study Tours
Shenlong
A group of 30 Electrical Engineering and Automotive Technology students and 2 employees from the department of Electrical Engineering will participate in a wonderful tour to the distant China to explore this country in all greatness from an educational, industrial and cultural point of view, especially in the (electrical and automotive) engineering and research fields. During this unforgettable experience, students will experience the similarities and differences in culture, and meet people and companies that would otherwise be unreachable.
SPARK
In July 2017, 30 students and 2 employees of the department of Electrical Engineering of Eindhoven University of Technology will embark on an intercontinental journey to Russia and South Korea. The purpose of this tour is to acquaint the students with the international approach to (electrical) engineering, the automotive industry and scientific research. This tour will also highlight the differences and similarities in culture, give students the opportunity to get to know people and companies they would otherwise never meet and hopefully create friendships and connections across the globe. For more information, visit the website.
Prosperando
What is Prosperando?
Prosperando is the name of a study tour, organized by the study association Thor of Electrical Engineering and Automotive at Eindhoven, University of Technology.
What does Prosperando mean?
Prosperando means flourishing in Portugese and represents the industrial and economic growth of Brazil.
Where will the Prosperando study trip go to?
The study tour will go to Brazil and to be more exact, we are planning to visit the cities Rio de Janeiro, São Paulo and Campinas. Furthermore the Iguaçu falls and the meeting of the rivers in Manaus are beauties of nature which we want to see with our own eyes.
What is the goal of the study tour?
We want to acquaint participants and ourselves with the upcoming Brazilian industry and technology. Besides that we want to experience the Brazilian culture and see the beautiful nature.
For more information visit the website.

Satori
Satori is a study tour organized by the student association Thor of Electrical Engineering at Eindhoven, University of Technology.
What does Satori mean?
Satori stands for Study tour Acquainting Thor with ORiental Innovation and is a Japanese Buddhist term for "enlightenment". When one has reached "satori", he is in a state of deeper understanding. Satori has a deep and positive meaning in Japanese culture and reflects what we thrive to achieve with our project.
What is the theme of the study tour?
The theme of the tour is "sustainability and innovation". The world is currently dealing with many issues such as global temperature changes and rising energy prices. Sustainability is therefore a much debated topic. In the past, global warming was not yet an issue and technology for a green world did not exist. Innovation is now needed to make our world green again.
For more information visit the website.
Contact
The theme of this study tour is "China: from Silk Road to Silicon Valley". Ancient China is well known for its great inventions. With breakthroughs like the compass and papermaking it was a great scientific nation. In the 20th Century China became well known for its cheap mass production and at this moment China is changing more and more to a country that develops high-tech products by itself. During the tour we will examine the results of these developments.
The aim of the study tour is to map the characteristic qualities that China shows with regard to the development of (electro)technical products. We will focus on the different phases that occur in the process from idea to final product. For this you can think of research, development, design, production and (after)sales. For all these steps we will discover how they are implemented in China, and what we can learn of this. In a larger point of view we will stimulate the participants to face challenges with a broader perspective.
For more information visit the website.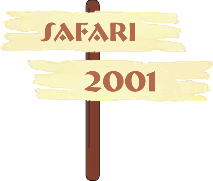 Safari
Wednesday July 18th: Departure from Amsterdam Airport at 19.10 o'clock.
July 19th: Arrival in Johannesburg at 9.25 o'clock, sightseeing in Pretoria
July 20th: Visit of the university of Pretoria
July 21st: Free day in Pretoria
July 22nd: Visit Soweto
July 23rd: Company visit CMG
July 24th: Company visit Kentron Missile systems in Johannesburg
July 25th: Visit of the Goldmines
July 26th: Company visit Coal power plant
July 27th: Visit Rand Afrikaans University in Johannesburg
July 28th: Bus Johannesburg - Durban
July 29th: Visit Oemfelosi wildpark near Durban
July 30th: Visit Zululand
July 31st: Visit Alusaf Aluminium Industry
August 1st: Flight Durban - Port Elisabeth (12.25 - 13.45 o'clock)
August 2nd: Visit to a car factory
August 3rd: Visit Addo Elephant Wildpark near Port Elisabeth
August 4th: Bus Port Elisabeth to Kaapstad
August 5th: Visit Winefarm on the Wine route near Kaapstad
August 6th: Visit Stellenbosch University
August 7th: Visit Cape Town, Table Mountain, Cape of Good Hope
August 8th: Company Visit Kentron Nuclear power station Koeberg
August 9th: Departure Cape Town Airport to Amsterdam at 19.35 o'clock
Friday August 10th: Arrival at Amsterdam Airport at 12.55 o'clock.